To increase reach and revenue streams beyond campus walls, many schools and companies branch out with online continuing education (CE) programs designed for professionals of all kinds. To keep these programs competitive and deliver the highest value to their consumers, schools need solid video capture, video streaming and recording solutions. Epiphan provides high-end video and lecture capture devices that empower schools to create high quality, consistently branded continuing education courses.
Create the courses your students need to succeed
Epiphan Pearl captures and records video from up to 4 HD sources. Use Pearl for recording and online streaming of 4 different layouts for online education programs that include live streaming sessions for remote participants. And easily Pearl's recorded lecture content with your existing learning management, content management system (LMS / CMS) or video post-processing and streaming software.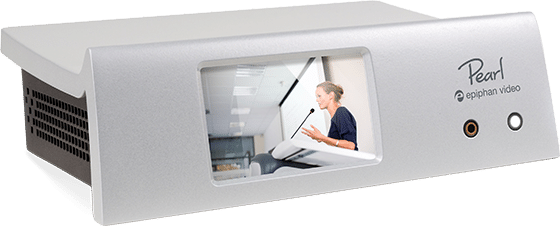 Importantly, Pearl is easy to set up and use. The fully comprehensive API (HTTP and RS-232) let you integrate with any type of existing infrastructure. Our customers find Pearl exceptionally reliable, easy to use and more flexible than its competitors. Get more for less with Pearl.
Quick facts about Epiphan products
Reliable – 24/7 performance
No fees & cost efficient
Simple to setup
Works with your CMS or LMS
Integrates with existing infrastructure
Amazing video quality
World class support
Easy to use by faculty
Thinking big and thinking small
In addition to all-in-one systems like Pearl, Epiphan has video grabbers and capture cards that are perfect for compact and remote lecture capture. For example, these devices allow professors to run office hours with live HD-quality video chat from their homes. Professors and TAs can also use them to record HD videos from sources outside the classroom environment for upload to the course page.
Epiphan's Lecture Recorder x2 is perfect for smaller scale lecture capture solutions, and the VGA Grid is used for larger scale lecture recording that have more than four simultaneous inputs.